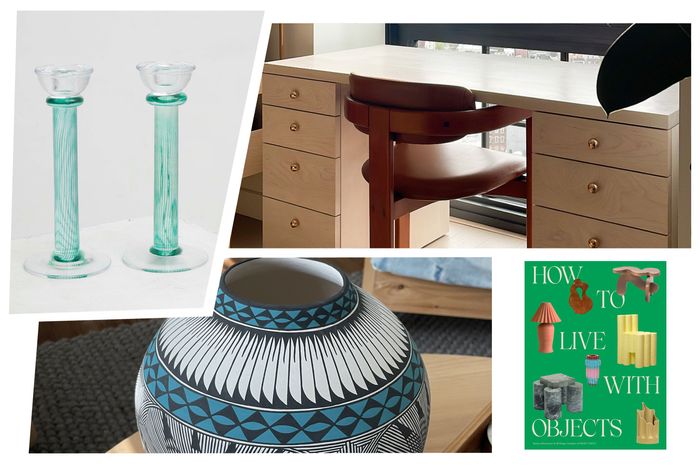 Photo-Illustration: Curbed. Photos: Courtesy Clarkson Potter and Jill Singer;
When Jill Singer and Monica Khemsurov started their online magazine Sight Unseen in 2009, they wanted to avoid the "uneasy sense of anonymity" that permeated interior-design coverage in books and magazines, as they write in the introduction to How to Live With Objects: A Modern Guide to Meaningful Interiors, out on November 15: "You got the same feeling from looking at them as you did from flipping through the catalog of a big-box furniture store. You wondered, Who, exactly, lives here?" While Sight Unseen has helped set a number of trends — the Memphis revival, wiggle graphics, and statement ceramics, to name a few — their perspective is anti-trend and anti-decorating: Singer and Khemsurov believe interiors should reflect "your personality and your obsessions, your experiences and your memories, your desires and your intentions." How to Live With Objects asks people who have a very well-defined sense of taste — including gallerists, dealers, and artists — to share how their collections came together. We turned the question back on Singer, who shares the stories behind three especially meaningful objects in her home, from her first big purchase to a custom desk she finally commissioned from a friend.
Photo: Courtesy Jill Singer
"Almost every designer I know has made a vase because it's like a small canvas. Plus it's tied to the resurgence of studio objects, which we talk about in the book, and ceramics and glass. A vase is such an obvious thing to make when you're working with those two materials. I now have a collection of 20 or 30 vases, most of which are gifts from friends who are designers. They're purely decorative. I never even thought of desecrating them by putting something in them.
I got this vase in 2010. One of my best friends from college was moving to L.A. from Chicago and asked me to go on a road trip with her. It was this very specific moment in my life. We started Sight Unseen the year before, but I didn't have any children yet, so it was like nothing but freedom. We stopped in six cities, and when we got to Santa Fe, which was toward the end of this trip, I had an urge to buy something to remember the journey. I can't remember why I needed to have this piece so badly. It was speaking to me for some reason. It's really beautiful and the pops of turquoise went with what was going on in my living room at the time. I paid $300 for it and hadn't spent that much on anything in my life before this point. It doesn't go with what's happening in my home now, and I think I would actually get rid of it if it didn't have such sentimental value to me."
Photo: Courtesy Jill Singer
"I needed a lot of stuff when I moved to my Greenpoint apartment a couple years ago, and I worked with my friend Keren Richter of White Arrow on finding furniture. For my bedroom–slash–home office, she suggested a vintage desk — I would have bought a Wendell Castle if I could afford it! — or a custom piece. I thought commissioning something would be a way to make a statement. I always wanted a piece of furniture from Jonah Takagi, who is one of my best friends. I didn't have anything by him besides, like, a random wall hook from Hem. I had nagged him to sell me a vase from his recent residency in France, but it never came together. He usually doesn't work directly with clients, and I thought it would be fun to do this one-off.
I had been using a rickety table that was never meant to be a desk, and it had all these scratches in the paint. I'm going to be 45 next year, so I wanted a real boss-bitch desk — almost an executive-style desk but cooler. I needed a lot of drawers, but I wanted it to be sculptural and beautiful. I sent Jonah a bunch of photos for a mood board, from a Jean-Michel Frank desk to this crazy one I found with a half-moon top, but because he knows me and my home, he thought a rectilinear design would work better. It has these really nice details: It looks like it's floating off the floor, it has these soft-close tracks that make opening and closing a drawer very sexy, and it has graduated drawers that are sized for an iPad or reporter notebooks up top, and the bottom one fits all my podcasting equipment. It's made from whitewashed maple — I needed something neutral that wouldn't compete with all the other wood furniture in my room — and because the lines are traditional, I bought these slightly lumpy bronze pulls by Ramsey Condor from the Future Perfect. I spent a lot of money on the whole thing, but it makes me happy every day."
Photo: Courtesy Clarkson Potter and Jill Singer
"Back in 2019, we had a party for Sight Unseen to celebrate our rug collaboration with Kasthall, the first product we designed for the home, and it was held at the Swedish residence, which is this incredible Beaux-Arts single-family home on the Upper East Side that dates back to 1910. When I went to scout the location, I couldn't stop photographing everything I saw. I looked in the pantry and found all of these glass candlesticks stacked up. They were all different colors: short little yellow ones, medium purple ones, and tall blue ones. I saw Kosta Boda stamped on the bottom (I turn stuff over all the time to figure out who made something) and wasn't familiar with it, but Monica told me it's like a CB2 of Europe — not very expensive. They were designed by Kjell Engman in 1989. I went home and immediately went on Etsy and eBay and saved a search for them. (Despite what we preach in the book, I barely had any search alerts at the time.) I ended up buying a green pair, which is featured in How to Live With Objects on page 222, a taller pair in blue, and a single green one. I keep them in the middle of my dining table with a green jug I found on Live Auctioneers. I am pretty agnostic when it comes to Shabbat candlesticks, so I often use these."
https://www.curbed.com/2022/11/sight-unseen-jill-singer-collection-jonah-takagi-vase-design.html