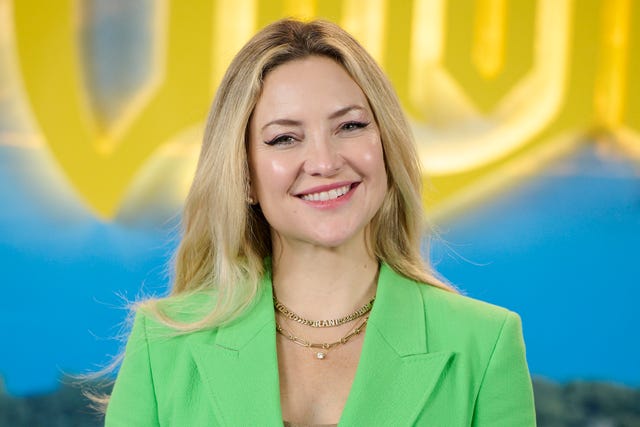 Carlos AlvarezGetty Images
From the comedy cult classic Bride Wars, to her most recent crime thriller Glass Onion, Kate Hudson's acting career has seen her play a role in practically ever genre going, and yet no matter the film, it's safe to say there's one thing they all have in common, her glowing skin.
Now of course we know genetics are partly responsible, Hudson is Goldie Hawn's daughter FYI, but if like us you can't help but wonder what she does to get her skin so luminous, then you've come to the right place. The actress recently filmed her exact morning routine for Vogue's Beauty Secrets series and there are some impressive takeaways. Here are Kate Hudson's top beauty tips to bookmark.
---
One thing we love about Hudson is her refreshingly honest approach to beauty. 'I'm not religious about it, which I know a lot of people would be like "you have to take your makeup off every night," and I'm not gonna lie I have nights where I don't do that.'
She does add however, that 'I think because I love products so much, that keeps me playing with my skincare and I change it all the time, so what I'm using today will not be what I'm using this week. I've always had some kind of routine, and I enjoy it more now that I'm older.'
This content is imported from Instagram. You may be able to find the same content in another format, or you may be able to find more information, at their web site.
Kate Hudson's skincare tips

1/ Mask, mask, mask
We'll admit this is one tip we've never heard of before, but it does make pretty good sense if you're short on time.
'I like to do eye masks under a full mask. I love [an eye mask] before I put on make-up.'
2/ A 360 approach is key
'Everyone always asks me like "skincare, skincare, what do you do." Three things. Sleep, hydration, supplement'.
Hudson takes her Inbloom Beauty Aura supplement everyday. 'For me, skin like fine lines, hair and nails, this is the dream product.'
It's not available in the UK just yet, sob, but there plenty of other really great beauty supplements out there. At WH, we're big fans of the WelleCo Super Elixir.
3/ Meditation
Hudson admits she's a big fan of meditation and believes a 10 minute meditation when your mask is on is the best way to practise the ritual.
'I thank my mom for her love of meditation, and her really being a proponent for that and mental health or mental fitness as we like it call it because she's being doing all that since the 70s darling.'
Now this is defo one tip we can get behind, derms all agree that relaxation and dialling down your stress levels can help to ease tricky skin conditions.
4/ Always wear SPF
A rule we'll never get bored of promoting.
'One of the most important things to me is sunscreen. I'm using Dr Barbara Sturm Sun drops.'
5/ Listen to the pros
Hudson confesses to using lots of tips she's picked up from her make-up artists including Monika Blunder and Gucci Westman.
When it comes to foundation she explains 'I go a little bit warmer than my normal skin tone, and then I go around [ outer eyes, cupids bow, bridge of nose] with a paler product.'
She's big into contouring too, using the Westman Atelier Face Trace Contour Stick she demonstrates where she contours, explaining, 'I'm gonna put a little bit here [top of her cheek bone] and then I'm going down into like [lower cheek] I call this the Kate Moss dip [before going around the brow bone and under the jaw line].
'Before I do my eye make-up I put a little bit of contour on my eyes because I like a more sunkissed feeling to my face,' she reveals.
6/ Work with what you've got
'You have to find the part to your face you wanna accentuate. My whole life I wish it was my lips but that's not what god gave me so I go for the eyes. Because I have almond eyes I bring everything under as it helps to elongate the eyes. Now I'm gonna put a little bit of one of my favourite highlighters on my lids.'
7/ A nifty brow trick for even arches

Hudson confesses she's no good at doing brows but we beg to differ after watching how she manages to make them look even.
'I usually hold it to here, [she lines up the brow pencil vertically in-between her nose eyebrow and then lifts it away from the face but keeps the pencil edge on her brow before placing a dot] so now I know that's where I'm gonna actually do my brows from.'
This content is imported from TikTok. You may be able to find the same content in another format, or you may be able to find more information, at their web site.
https://www.womenshealthmag.com/uk/beauty/skin/a42094796/kate-hudson-skincare-secrets/